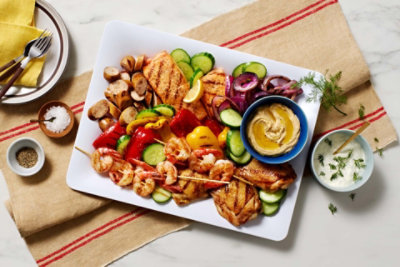 Summertime Mixed Grill
Create the perfect main entrée for your cookout! With a variety of Open Nature® meat and seafood options, this Summertime Mixed Grill platter is sure to have something for everyone at your summer gathering to enjoy.
Total original price
* Estimated price based on adding all ingredients to cart.
Mixed Grill
12 Open Nature® (21-30 count) shrimp, peeled and skewered 6 per skewer
2 Open Nature® Sockeye salmon fillets
4 Open Nature® Air Chilled chicken thighs
2 Open Nature® chicken & apple dinner sausages
1 cup Open Nature® balsamic vinaigrette salad dressing, to marinate
1 red bell pepper, cut into quarters, stem and seeds removed
1 yellow bell pepper, cut into quarters, stem and seeds removed
1 red onion, peeled and cut into thick rings
2 pinches kosher salt
2 pinches black pepper
3 tablespoons olive oil
Sides
1 cup O Organics® Hummus
12 slices whole English cucumber, bias cut slices
4 slices tomato, thick sliced
Dill Lemon Dressing
1 cup Open Nature® Greek yogurt
2 tablespoons lemon juice
2 tablespoons fresh dill, minced
1 pinch kosher salt
1 pinch black pepper
Cooking Instructions
Step 1
Prepare a grill to medium heat.
Step 2
Place the shrimp skewers and salmon into a baking tray, dress with approximately half of the salad dressing.
Step 3
Place the chicken thighs into a baking tray and dress with the remaining dressing.
Step 4
Clean the grill by brushing, then oil or spray with non-stick spray to prevent sticking of food.
Step 5
Begin by grilling the chicken thighs, cooking for approximately 8-12 minutes per side depending on thickness, then remove when insta-read thermometer reads 165°.
Step 6
Grill the sausages for 5-7 minutes, until thoroughly heated through, remove from grill and allow to rest before slicing in half.
Step 7
Dress the peppers and onions with salt, pepper and olive oil. Grill for approximately 3-4 minutes per side, then remove from grill.
Step 8
Next, grill the shrimp and salmon fillets for about 5-7 minutes or until fully cooked.
Step 9 :: To Serve
Spread the hummus onto the center of a large platter. Arrange the cooked chicken, sausages, shrimp, and salmon around the platter.
Step 10 :: To Serve
Add the grilled peppers and onions, then garnish with sliced cucumbers and tomato slices.
Step 11 :: To Serve
Combine Greek yogurt, lemon juice, dill, salt and pepper to make the Dill Lemon Dressing. Serve with dressing, either on the side in a separate bowl or drizzled over top of the prepared ingredients.
All recipe ingredients should be cooked to a safe internal temperature according to USDA guidelines. After preparing a recipe, please store any leftovers in the refrigerator.