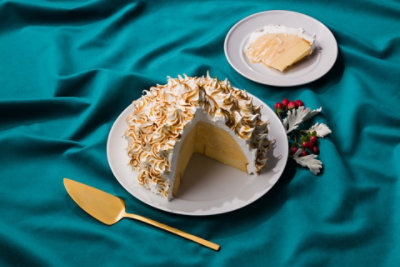 Pumpkin Pie Baked Alaska
This Baked Alaska recipe is the perfect way to take your holiday dessert to the next level with a delicious twist on the must-have flavors of the season!
8 hour, 5 mins
Total cook time
Total original price
* Estimated price based on adding all ingredients to cart.
Main
1 ½ quarts Signature SELECT™ Pumpkin Pie Ice Cream
1 ½ quarts Signature SELECT™ Egg Nog Ice Cream (alternative option to replace pumpkin ice cream)
1 pound cake
6 Lucerne® Large Egg whites, at room temperature
1 cup Signature SELECT™ Granulated Sugar
1/4 teaspoon Signature SELECT™ Cream of Tartar
Cooking Instructions
Step 1
Spray a 3-quart bowl with nonstick spray and line with plastic wrap. Scoop the ice cream into the bowl, pressing to remove any spaces. Top with pound cake slices cutting to fit the bowl to cover the ice cream. Gently press the cake into the softened ice cream. Cover with plastic wrap and freeze 3 hours.
Step 2
Beat egg whites and cream of tartar with a mixer on high until foamy, about 3 minutes. Slowly add sugar and continue beating until stiff peaks form.
Step 3
Remove plastic wrap and invert the cake onto a parchment-lined baking sheet. Cover with meringue. Place uncovered in the freezer for at least 1 hour or up to 24 hours.
Step 4
Preheat oven to 500 degrees. Bake the dessert about 3-5 minutes or until meringue is golden. Alternately, brown meringue with a kitchen torch. Allow to rest 5 minutes before serving.
Step 5 :: Helpful Hints
Signature SELECT™ Eggnog Ice Cream makes a fantastic substitute for the Pumpkin Pie Ice Cream.
Step 6 :: Helpful Hints
Piping the meringue with a star tip makes a beautiful presentation.
All recipe ingredients should be cooked to a safe internal temperature according to USDA guidelines. After preparing a recipe, please store any leftovers in the refrigerator.