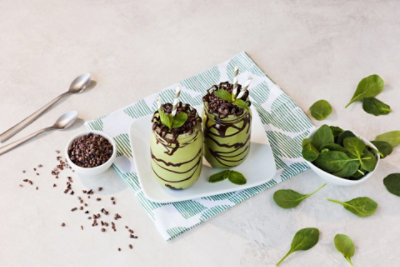 Plant-Based Mint Chocolate Shake
Tasty, ready in minutes, and perfect for any time of day, whip up this plant-based shake for a healthy take on a classic combination of mint and chocolate! You can easily make this shake vegan too, just swap in dairy-free dark chocolate chips!
Total original price
* Estimated price based on adding all ingredients to cart.
Main Ingredients
3/4 cup Open Nature® Vanilla Almond Milk
1/4 cup packed O Organics® fresh spinach
1 cup Open Nature® Cashew Milk Vanilla Bean Frozen Dessert
1/4 teaspoon mint extract
1 handful ice cubes
1 tablespoon O Organics® dark chocolate chips, melted
1 teaspoon cacao nibs, optional
Cooking Instructions
Step 1
In a high-powered blender, add almond milk and spinach, then blend on high until mixture is completely smooth. Next, add in the vanilla bean frozen dessert and mint extract, then blend again. Finally, add in a handful of ice cubes, and pulse until mixture is thick and creamy. If needed for consistency, add more almond milk and blend again.
Step 2
Melt dark chocolate chips in a microwave for 30 to 45 seconds on high, stopping half way through to stir. Then take the melted chocolate chips out of the microwave and continue to stir until consistency is smooth and free of lumps.
Step 3
Drizzle a little melted chocolate into a glass, then pour in the mint shake, and drizzle the rest of the chocolate on top of the shake.
Step 4
Top with cacao nibs. Enjoy immediately!
Step 5 :: Helpful HInts
Swap out the dark chocolate chips with a dairy-free version to make this shake vegan!
All recipe ingredients should be cooked to a safe internal temperature according to USDA guidelines. After preparing a recipe, please store any leftovers in the refrigerator.