Shop Our Favorite Recipes
Burger Night, Solved
Shop our top burger picks, all in one spot.
Fresh & Easy Salads
From greens to dressings, enjoy a delicious salad with all your fave ingredients.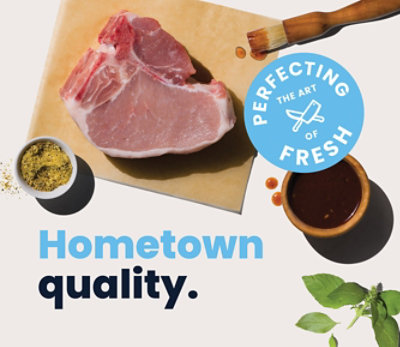 Our in-store butchers are a cut above, no matter how you slice it. With years of experience and passion for the craft, they ensure you get the perfect cut of meat for every occasion.

1. Our expert Hometown Butchers receive continuous, on-the-job training.
2. We develop and maintain specifications that meet or exceed USDA industry standards.
3. We follow Food Safety and Operating standards to ensure proper handling and transportation to our stores.
4. Our quality assurance inspectors scrutinize each delivery to ensure it meets our quality, temperature and receiving standards.
5. Our fresh meats are never frozen and adhere to strict dating and handling guidelines along with cutting in-store, to order daily, helps ensure your meat exceeds your quality expectations.
6. We partner with, and regularly audit and inspect suppliers in our goal to promote and ensure the humane treatment of animals.
7. We leverage technology and industry expertise to offer the right product at the right time, and at the right price.

You can trust that every cut of meat we provide is trimmed, handled, packaged and dated to our highest expectations and standards for quality.