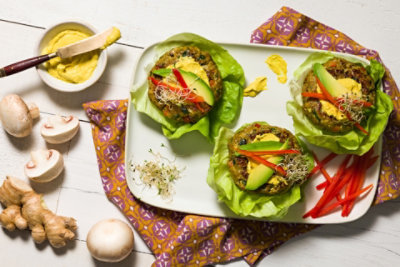 Zen Turkey Blend Burger
Super lean and perfectly seasoned, our Zen Turkey Blend Burger is great served on lettuce, Napa cabbage leaves or whole wheat buns. Top them with the flavorful curry dressing, creamy avocado, fresh tomato slices and red pepper strips. Packed with nutrition and bursting with flavor, this healthy meal will quickly become a family favorite.
Total original price
* Estimated price based on adding all ingredients to cart.
Main Ingredients
2 ½ cups O Organics® or Signature Farms® sliced mushrooms (white button or crimini)
8 ounces Open Nature® ground turkey
2 tablespoons O Organics® golden flax meal
1/4 cup finely diced red bell pepper
1/4 cup chopped fresh cilantro
2 teaspoons O Organics® curry powder
1/2 teaspoon chopped fresh ginger (available in jars in the produce section)
1 tsp minced or chopped fresh garlic (available in jars in the produce section)
1/4 tsp each salt and black pepper (add more, if desired)
2 tsp O Organics® extra virgin olive oil
Quick Curry Sauce
1/4 cup unsweetened coconut non-fat Greek yogurt (or plain Greek nonfat yogurt)
1 tsp O Organics® curry powder
1/8 tsp ground cumin
1/4 tsp O Organics® garlic powder
Cooking Instructions
Step 1
Add mushrooms to a food processor (or similar) and pulse until finely chopped. In medium bowl, combine mushrooms with turkey, flax meal, bell pepper, cilantro, 2 teaspoons curry powder, ginger, fresh garlic and salt and pepper. Make sure all the seasonings are mixed in well. Form into 4 patties about 1/2-inch thick.
Step 2
Heat a large non-stick skillet or frypan over medium heat. Coat 4 circles, about the size of the burgers, on the pan with about 1/2 teaspoon each of the olive oil. Place a burger on top of each circle and cook about 4 minutes on each side until cooked throughout. (The burgers can also be cooked on a BBQ grill using cooking spray to coat the grate).
Step 3
While burgers are cooking, whip up the curry sauce by stirring Greek yogurt, curry powder, cumin and garlic powder together in a small serving dish.
Step 4
Place burgers on a toasted whole wheat bun or serve plant-style with avocado slices and lettuce. Top with curry sauce as desired!
All recipe ingredients should be cooked to a safe internal temperature according to USDA guidelines. After preparing a recipe, please store any leftovers in the refrigerator.