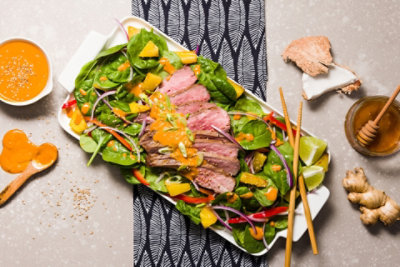 Flank Steak and Spinach Salad with Peanut Sauce
Enjoy this delicious paleo-friendly and gluten-free salad (if you use gluten-free soy sauce and peanut butter—check the labels) as a change from your standard lunchtime fare. Savory steak, pineapple and bell pepper combined with a Thai-inspired peanut sauce makes a tasty, filling meal.
Total original price
* Estimated price based on adding all ingredients to cart.
Spinach Salad
10 ounces fresh baby spinach
1 red bell pepper (julienned)
1/2 red onion, (thinly sliced)
Flank Steak
1 flank steak
1 cup fresh cuts pineapple chunks
salt and pepper for seasoning
Nonstick cooking spray
Peanut Sauce
1/2 cup natural peanut butter (no sugar added)
1/2 cup light coconut milk
1 tablespoon toasted sesame oil
2 tablespoons fresh lime juice
2 tablespoons honey
1 1/2 tablespoons soy sauce
2 tablespoons red curry paste
1 teaspoon freshly grated ginger
Optional
srirachi sauce for extra heat
Cooking Instructions
Step 1
Preheat oven to broiler setting, place rack under broiler. Season steak on both sides with salt and pepper.
Step 2
Spray shallow, broiler proof baking pan with nonstick spray. Place flank steak on one side of the pan and the pineapple chunks on the other, making sure the pineapple is slightly mounded. 
Step 3
Place under broiler for 5-7 minutes or until steak is nicely browned. Flip steak to the other side and stir pineapple slightly. Broil for about another 5 minutes, or until desired doneness. Remove steak from broiler pan and let rest on cutting board, tented with aluminum foil, for about 10 minutes.
Step 4
Combine spinach, red pepper and red onion in a bowl. Set aside. After cooling for 5 minutes, add pineapple.
Step 5
In a blender add peanut butter, coconut milk, sesame oil, lime juice, soy sauce, honey, red curry paste and ginger. Blend until well combined.
Step 6
Slice steak and serve over spinach. Top with Peanut Sauce.
All recipe ingredients should be cooked to a safe internal temperature according to USDA guidelines. After preparing a recipe, please store any leftovers in the refrigerator.