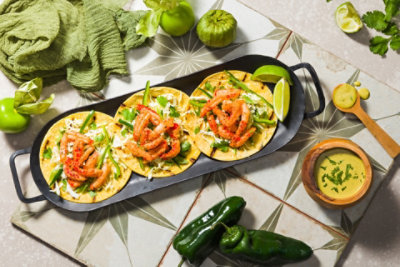 Crawfish Tacos with Creamy Avocado Tomatillo Salsa
We're obsessed with freshness and flavor, and this recipe is full of both. Add a taste of Louisiana to your tacos with crawfish, a delicacy in the bayous of The Pelican State. Layered with veggies and dressed with a tangy, creamy avocado tomatillo salsa, you can't go wrong with this quick and tasty meal.
Total original price
* Estimated price based on adding all ingredients to cart.
Main Ingredients
2 cups 3/4lb crawfish tails
pinch of salt and pepper
2 tablespoons canola oil
8 corn tortillas
2 cups green cabbage (shredded)
1/4 cup green onion (thinly cut)
1/4 cup cilantro (roughly chopped)
1/4 cup poblano pepper (cut into thin strips)
2 avocados (peeled and pitted)
7 ounces green tomatillo salsa
1 lime (juice)
1 cup cilantro (roughly chopped)
1 garlic clove (chopped)
1 cup Lucerne® sour cream
Cooking Instructions
Step 1
Season crawfish tails with salt and pepper, dress with canola oil.
Step 2
Sautee for 2-3 minutes over medium heat or until fully cooked. Set aside for tacos.
Step 3
Combine cabbage, green onion, cilantro, poblano pepper. Set aside.
Step 4
Combine avocados and salsa in blender. Pulse-blend a couple of times.
Step 5
Add lime juice, cilantro, garlic and sour cream. Process until smooth, scrape into bowl and salt to taste.
All recipe ingredients should be cooked to a safe internal temperature according to USDA guidelines. After preparing a recipe, please store any leftovers in the refrigerator.